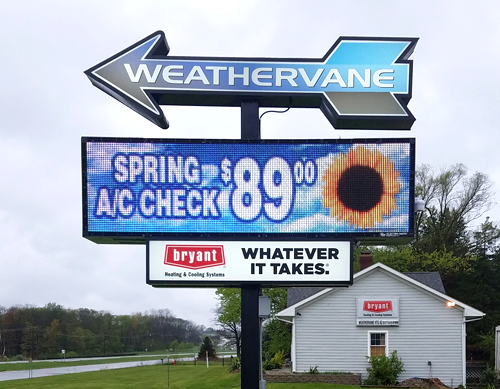 Weathervane Heating and Cooling, Inc. of Howell, MI is known for their high quality, "Luxaire" Heating and Air Conditioning units and their professional knowledge on heating, cooling, and ventilation. Weathervane offers the highest level of home comfort by consisting of efficient, reliable and cost effective products and services. Much like Weathervane's foundation, Electro-Matic Visual's LED displays proved to be the right fit because it matched the high level of efficiency, reliability, and cost effectiveness and with the help from Image 360 the project was able to be completed.

Image 360 and Electro-Matic Visual were able to give Weathervane this attractive sign to help them reach the traffic driving by. Their location sits well above the road and it was previously harder for people to identify what exactly the building was on top of the hill.

"Weathervane Heating & Cooling had no sign and are 100 feet above road level. They needed a unique way to communicate to vehicles driving by. Electro-Matic Visual's message boards got the job done." – Joe Agius, Sign Designer, Sales & Content Creator, Image 360 – Brighton, MI

Now with their new LED sign they are able to communicate with passing traffic to promote their "Luxaire" Heating and Air Conditioning units and their best service offers. Not only are they able to promote deals on products and services, but now their sign can help build their brand image and professionalism that they have.