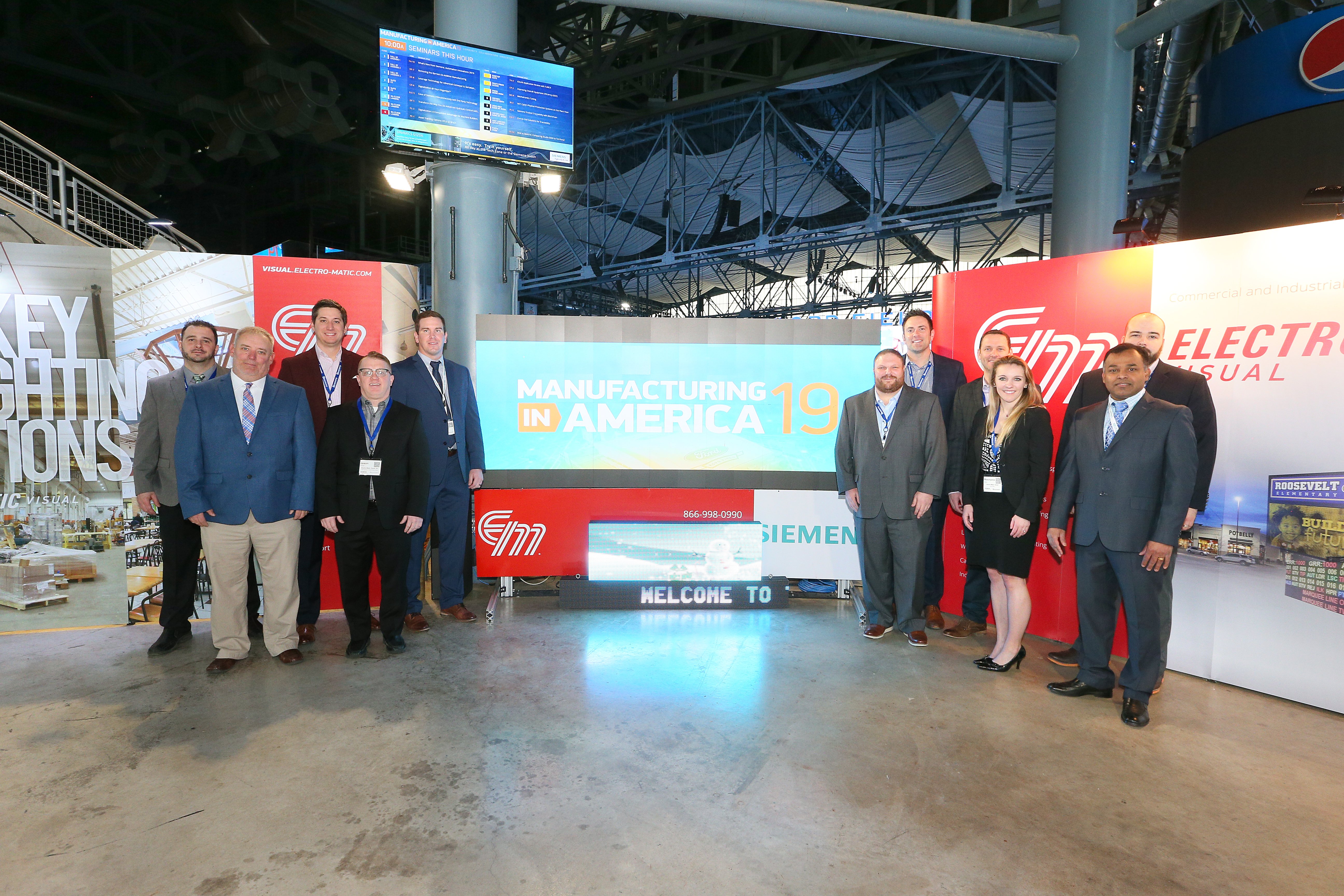 Can you believe we're already a third of the way through 2019? Neither can we! The Electro-Matic Visual team has been extremely busy working on projects and attending trade shows throughout the US.
Recap of Manufacturing in America
On March 20th and 21st, Electro-Matic hosted its annual event, Manufacturing in America, with Siemens at Ford Field in Detroit. This year was the most successful year yet. Over both days, MiA had an attendance of 3,500 people with 1,152 unique companies and organizations.
Electro-Matic Visual's booth was a success, too. We had loads of LED Displays, and more importantly, a free throw shooting competition. Contestants were set up at the free throw line and challenged to make as many baskets as they could in one minute. The winner this year was a young man named Spencer Holdcraft. By the end of last day of MiA, he had the highest score of 22 points in a minute. What did he win you ask? An official Detroit Pistons' basketball signed by Detroit's very own, Andre Drummond.
Thanks to Joe Dumar's Fieldhouse for helping us run the contest, successfully, it will be back next year with even more prizes!
Other Trade Shows and Projects
Electro-Matic Visual has attended a number of other trade shows this year, as well. We've been all across the country—traveling from Orlando for the 2019 AKFC Convention, to the KFC Annual Convention in Georgia, and then to Texas for the Alliance Franchise Brand Convention.
Coming up, we will be heading over to the west side of the US and attending the International Sign Association trade show in Las Vegas. As for events that are a bit more local, you can catch Electro-Matic Visual in Grand Rapids for the Michigan Battle of the Buildings Energy Summit in Grand Rapids on April 25th, and at Eastern Market in Detroit at the BOMA Trade Fair on May 3rd.
Two of many of the companies we've worked for so far this year are, the Monroe Dodge Chrysler Jeep Ram Superstore, and Martinaire Aviation. The Monroe Dodge was a Display project while Martinaire Aviation was a LED Lighting project. The work Electro-Matic Visual put into these two operations has assisted both companies with an increase in sales as well as savings in their ROI.