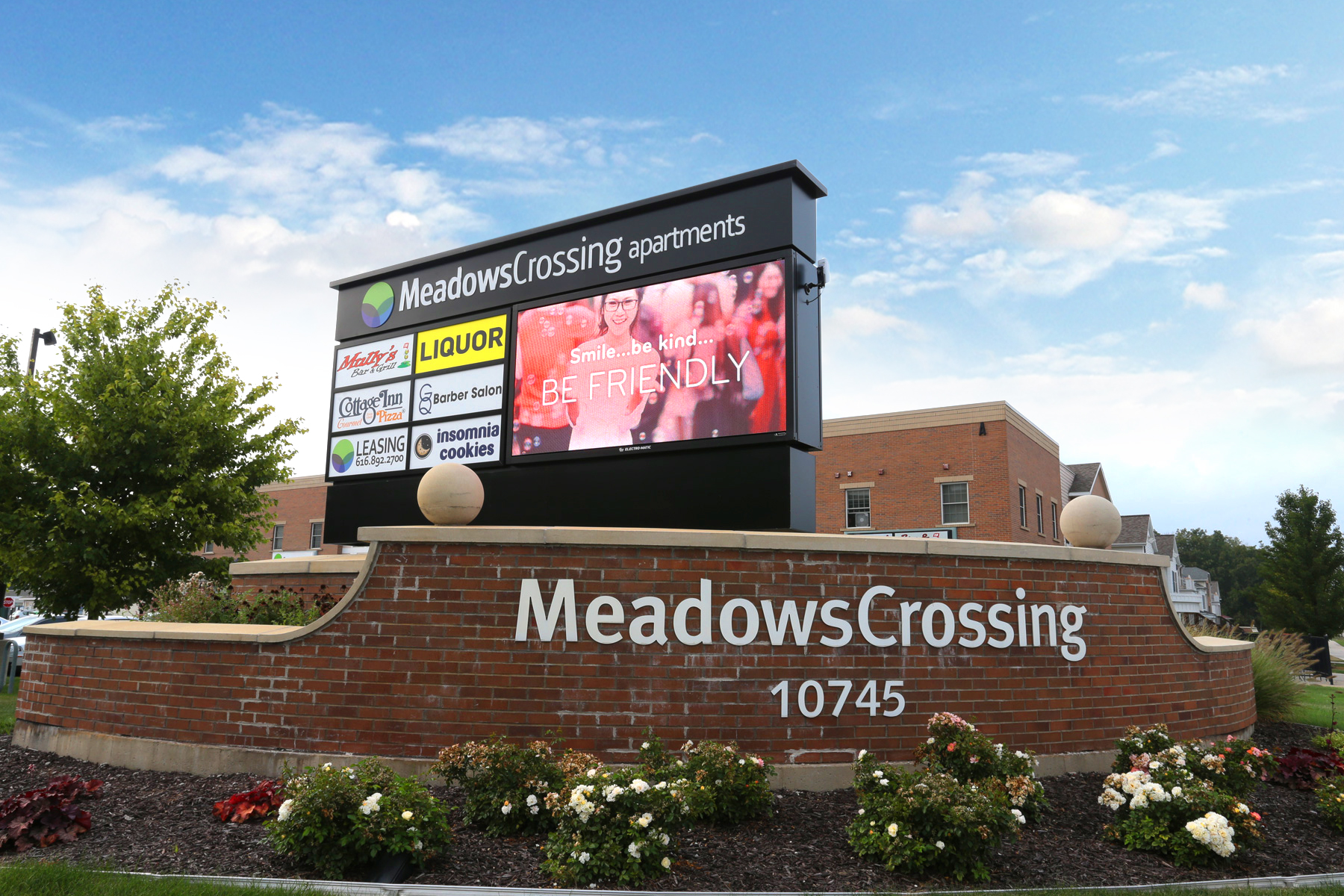 Meadows Crossing is student housing and retail complex located just steps away from Grand Valley State University Campus in Allendale, MI. The retail portion of Meadows Crossing includes Mully's Bar & Grill, HIP Party Store, Gentleman's Quarters Barber Salon, Cottage Inn Pizza, and Insomnia Cookies.
---
Student housing in Allendale is an extremely competitive market. The window of opportunity to attract a student and get them to commit to a housing situation is very slim. Also, the retail segment can be challenging for tenants located near a college campus. Outlets often need to make a years-worth of revenue in an 8 or 9-month span due to the school calendar. For that reason, maximizing exposure to potential customers is extremely important.
Originally, Meadows Crossing had an outdated static monument sign on a long, large brick base (see below). The original sign didn't seem to match the brick base, and also offered limited signage for each tenant. The sign didn't feature any changeable messaging options.

Old Signage at Meadows Crossing
Benefits of New LED Sign
The goal of the project was to upgrade the signage for Meadows Crossing that would outshine every other sign nearby, bringing maximum exposure for student housing and their retail outlets. Meadows Crossing enrolled the help of Universal Sign Systems to come up with the perfect solution. To bring maximum exposure and create that WOW factor Universal decided to install the first ever 6mm LED display in all of west Michigan. Universal supplemented the LED sign with new tenant signage in a sleek black cabinet that tied the entire sign together.
Because of the high pixel density of the LED sign, Meadows Crossing was able to show any image, graphic, or video with breathtaking picture clarity while complying with the size limitations of the local jurisdiction. All of the other signs in Allendale were mostly 16mm displays which were only good for simple text. Because of the 6mm pixel spacing Meadows Crossing could now show high-def images of their townhomes, delicious cookies from Insomnia cookies, delicious pizza from Cottage Inn, and more. The new sign brought immediate buzz to the area, resulting in more renters and higher sales revenue for their tenants.
"When Glenn came to me with a request for a replacement multi-tenant sign that would be a cut above the rest, I knew the recently released 6mm Electro-Matic display was the perfect fit. The quality of the display and tight pixel pitch allowed for detailed advertisements in the limited space that we were allowed. Thanks to Alan and the Electro-Matic team for knocking it out of the park!"
— Nate Zevenbergen, Universal Sign, Inc.
"We have thoroughly enjoyed having the new 6mm, high-density, LED sign at Meadows Crossing. It helps us to market our brand to the college student community every day. It enables us to market our retail tenants and their businesses as well. Our student apartment community is the best off-campus housing option for GVSU students and this elegant sign beams our superb brand 24/7."
— Glenn Turek, President at Silveri Management
List products and services EM used
4ft x 8ft / 180x360 Pixel / 6mm
Electro-Matic Fusion Display
Read More
Topics: Going Green, Electro-Matic Sign News, LED Lighting, News