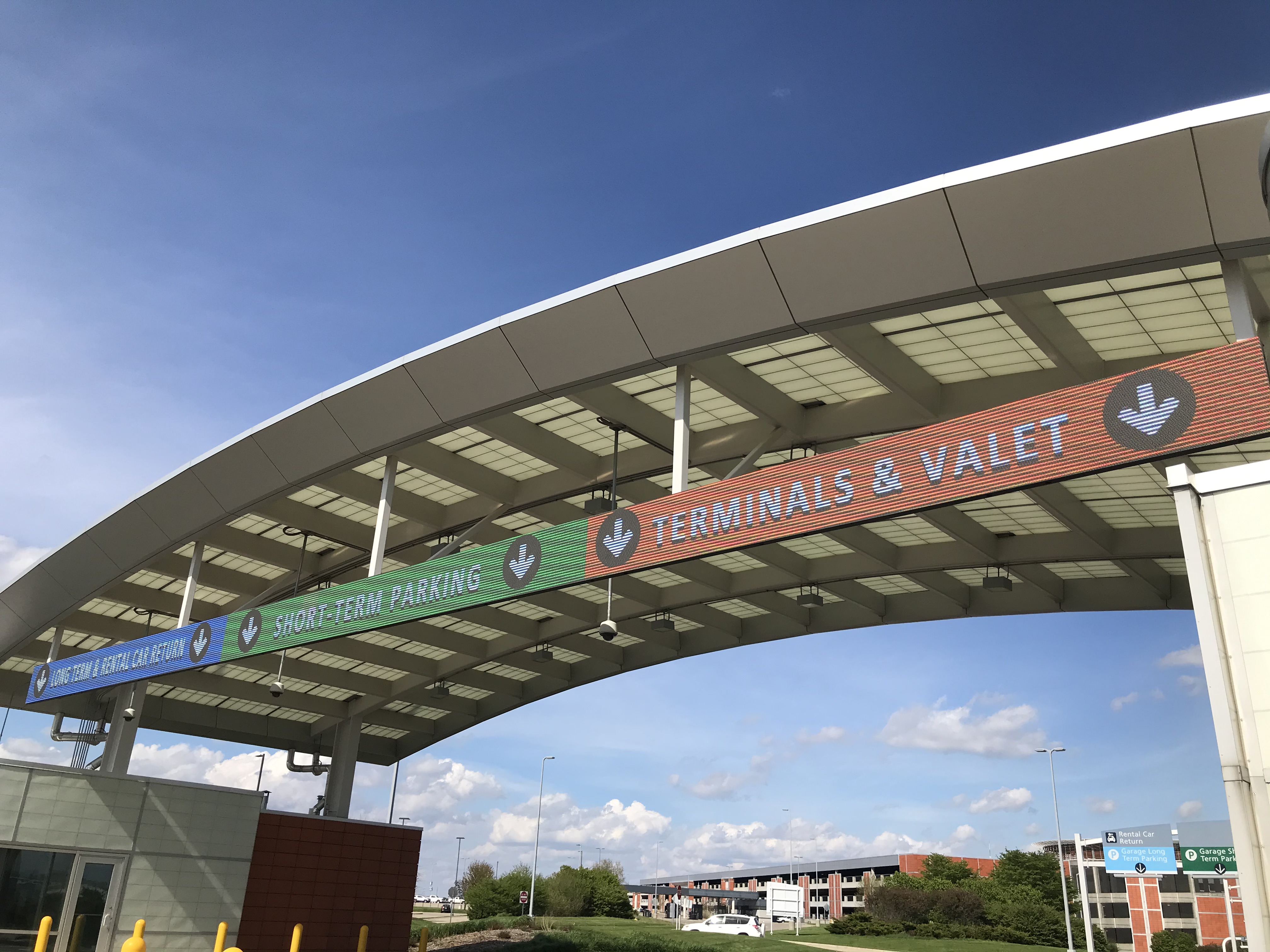 Gerald R Ford International Airport is the second busiest airport in Michigan with over 3.6 million people having traveled through it in 2019. They offer 140 nonstop flights a day to 34 popular destinations. Flying with Gerald R Ford means you spend less time driving to big city airports, waiting in big city lines, paying big city premium parking costs, and dealing with big city traffic headaches.
Before working with Valley City Sign Company and Electro-Matic, the airport parking facilities director rented two construction-style monochrome amber signs to communicate parking updates and challenges for drivers as they entered the airport. Both of these signs cost the airport thousands of dollars every year and didn't fit the rest of the airport's aesthetics. They wanted to upgrade their signage along the entrance of the airport in a way that matches the look of the airport, while also improving the quality of the messages displayed. It was also very important to them to have access to immediate messaging for any emergencies or parking structure closings.
The airport enlisted the help from Valley City Sign to handle the design and installation. Valley City consulted with Electro-Matic and agreed that a high resolution 6mm full color LED sign would give the airport the versatility and high quality messaging they desired.
Following installation, the LED signs were an immediate success for the airport. The parking managers quickly caught on to using the new software and the quality of the messaging improved instantly. The displays were a beautiful addition to the entrance and improved the curb appeal to the airport overnight—the airport no longer needed to rent expensive construction style signs anymore, and they can now communicate with drivers before decision points to alleviate congestion at the entrance of the parking structures and the terminal along with any emergencies that may arise .
List products and services EM used:

Two 4x8 6mm Electro-Matic Fusion LED Display

30 inches x 75 6mm Electro-Matic Fusion LED Display
Any external companies that helped on the project:
Valley City Sign Company